Sign up for Club Timmisa
You have now signed up for Club Timmisa
You must now log in to the portal, with your new user, by clicking on login in the right corner.
Change password
You will receive a code in your email, which you can use to change your password.
We can not find this email in the system
Add trip
Your reservation number is six characters long and can contain both numbers and letters
1919
Aircraft mechanic
To be considered, you must submit an application form, which you can find in the municipal education guide / Majoriaq no later than 1 March. You must also pass a special entrance exam set by Air Greenland. The education starts per. August 1st.
The daily work of an aircraft mechanic consists of:
---
Performs scheduled inspections.
Perform preventive maintenance, including troubleshooting and troubleshooting aircraft / helicopters.
Component replacements
Functional tests of electronic and mechanical control systems on both fixed-wing aircraft and helicopters
The work is mostly done in hangars, but can also take place outdoors
The safety of both the staff and the work performed is a very high priority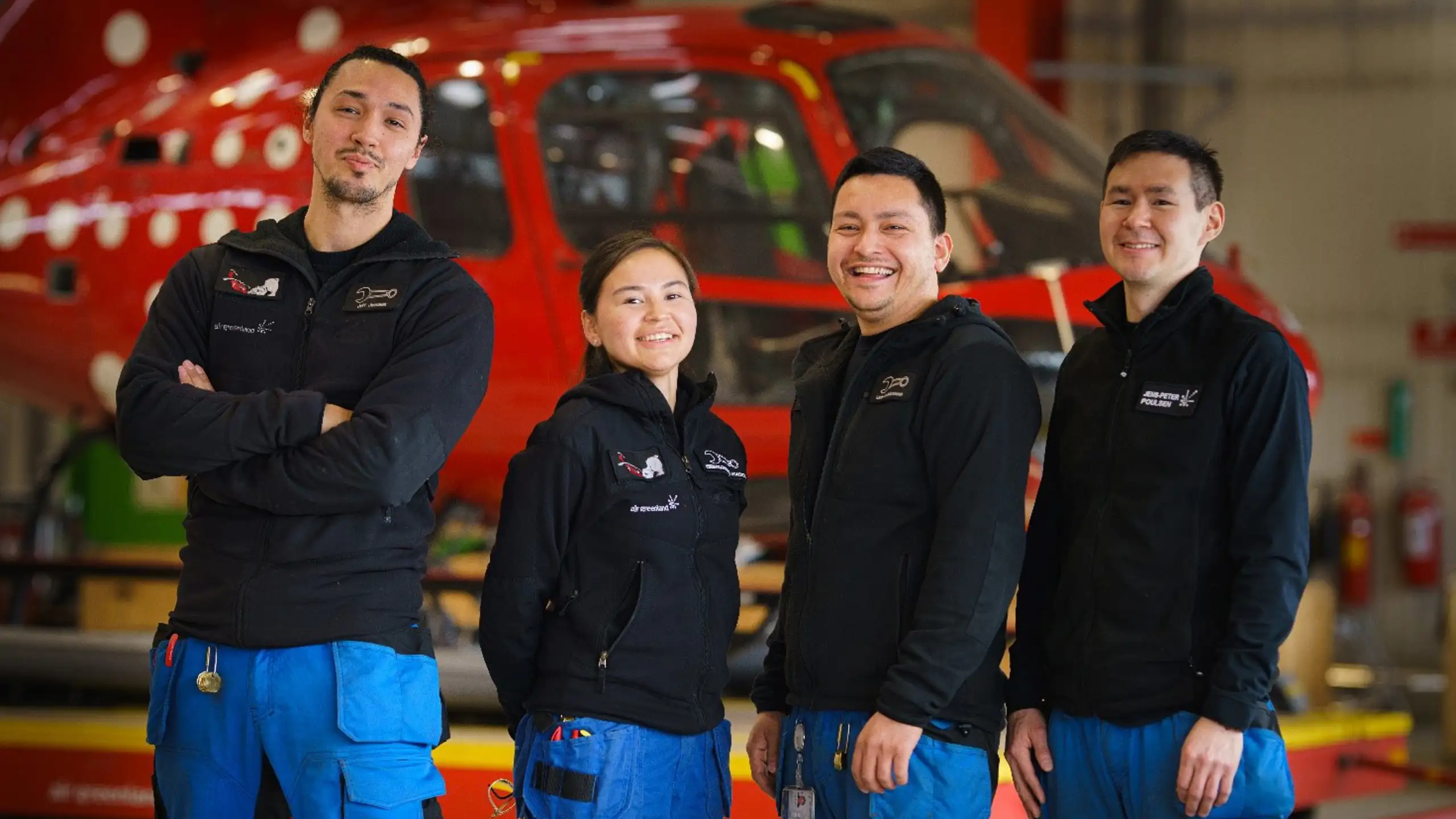 Training programme
---
The training lasts 4 years and 5 months and alternates between work placements at Air Greenland and a study programme at TEC in Hvidovre.
There is an introductory course of max. 1 week in Nuuk that is followed by a 12-week introductory course at TEC in Hvidovre.
Later on there will be four additional study programmes, respectively of 15, 15, 20 and 10 weeks, all of them ending with exams.
The following, among other things, are taught at TEC: Basic subjects, such as Danish, English and understanding of materials, professional subjects, such as work on aircraft chassis, piston engines and turbine engines, specialisation subjects, such as VHF telephony and work on electronic and avionic systems.
Your work placement periods take place in Air Greenland's hangars, component workshops, engine workshop, electronics workshop and panel workshop under the guidance of well-qualified personnel.
You must be a resident of Greenland and must meet the Government of Greenland's requirements for an educational grant.
Your qualifications
---
You must have passed the basic school education with good results or completed and passed TECs introductory course on your own
You need a security clearing in order to get access to restricted airport areas
Economy
---
Aircraft mechanic apprentices receive an aspirant salary in accordance with current rates in Air Greenland.
If you want to know more about the job and the training, please feel free to contact the Air Greenland Training Center by phone +299 34 34 34 or send an e-mail. You can also contact Majoriaq in your city to get to know more about the education.