Skiing and snowboarding
Well-prepared cross-country slopes, thrillingly steep fells, gentle descents and crazy ascents. In other words, an introduction to skiing for everybody in the green country.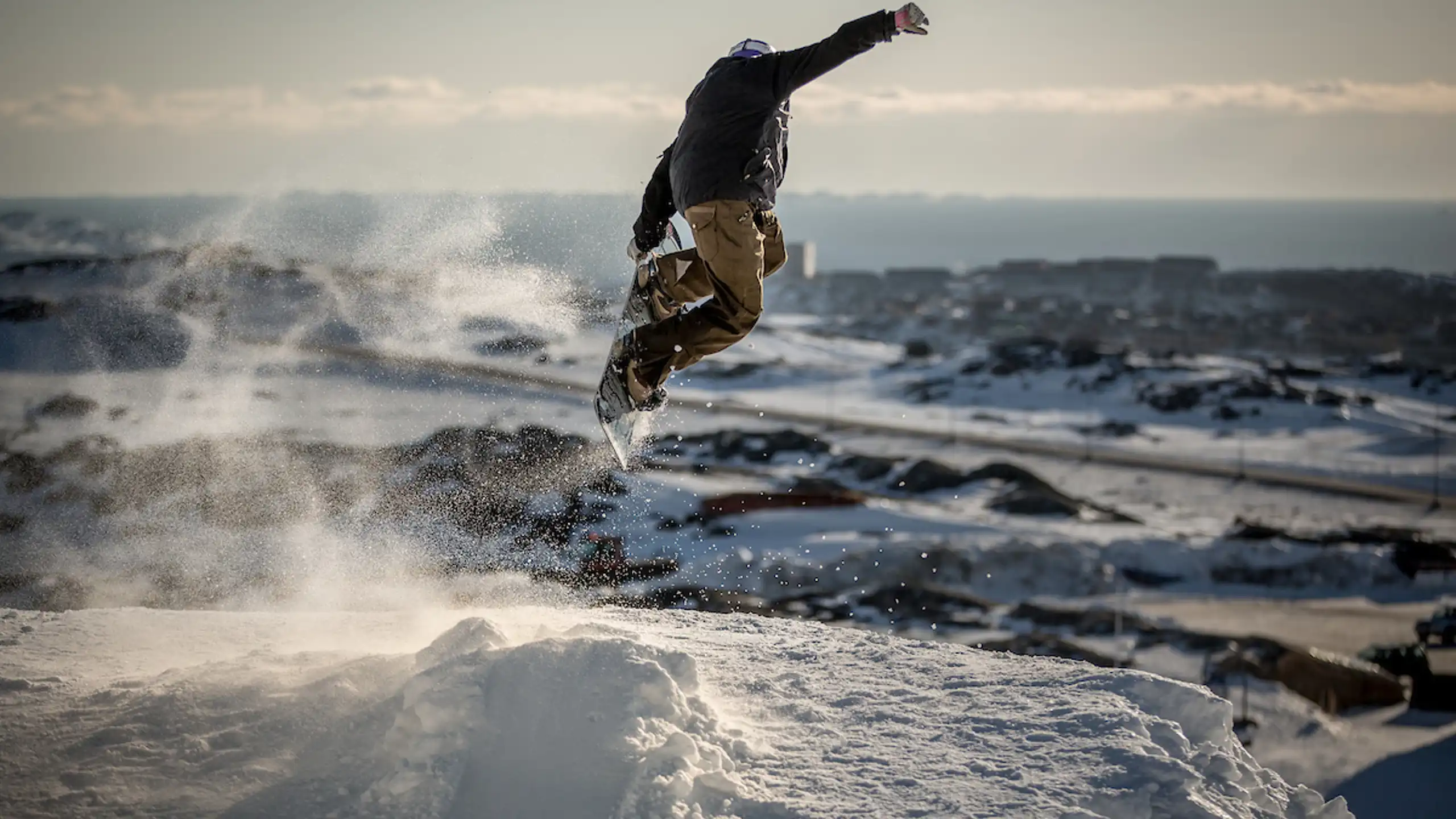 Photo Mads Pihl
Active holiday for snow freaks
Greenland's longest ski lift is 1,000 metres long and lies close to the capital of Nuuk. There are also lifts in Sisimiut. In several towns there are good cross-country slopes that are prepared by local skiing clubs.
In Sisimiut skis and snowboards are found in just about every home. As home to the internationally famous cross-country Arctic Circle Race, the town has an obligation to ensure good slopes and routes for ski touring, an obligation it meets to the full. Once a year the town is the focus of attention as enthusiastic amateurs and professional skiers from all over the world strap on their skis for a three-day tour into the hinterland with overnight stays in tents.
Click on heli-skiing if you want an experience that's sure to make you giddy. Heli-skiing takes place in Maniitsoq, which for several years has attracted skiing enthusiasts from all over the world. Being flown up to the top of the fells by Air Greenland's helicopters and stepping out to take the descent on virgin slopes time after time is highly addictive. Stay at a hotel or in private accommodation and find new routes every single day.
The Apussuit glacier is also close to Maniitsoq. The glacier's height of 1,000 metres offers good opportunities for skiing during the summer. More than 1,000 km2 lie at your feet, so just get on your way!
At all places in Greenland the tourist offices have good suggestions as to where you can go skiing.
DID YOU KNOW?
---
Microsoft's Bill Gates was one of the first people to become highly addicted to heli-skiing in Greenland.
The 'Arctic Circle Race' enjoys a special status in the cross-country skiing world. The race takes place every year in March or April, and has done so since 1998.
Ski lifts are separated by great distances in Greenland. On the other hand, randonnée and cross-country skiers have endless possibilities.
Book your experience here: